The Cure's Robert Smith says he's "sickened" by Ticketmaster fees
In a Twitter thread posted the day after the sale for his band's upcoming tour, Smith also called Ticketmaster Platinum "a greedy scam."
March 16, 2023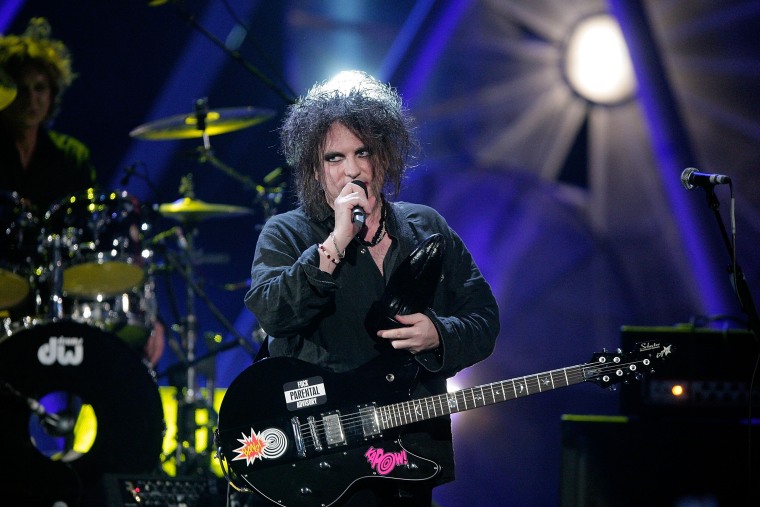 The Cure's Robert Smith. Photo by Kevin Winter/Getty Images
Robert Smith, frontman of the U.K. rock legends The Cure, is the latest artist to take aim at Ticketmaster for its business model. Tickets for The Cure's upcoming tour went on sale yesterday (March 15), and some fans complained about the fees and additional costs that were tacked on by Ticketmaster to every sale.
ADVERTISEMENT
In tweets posted early Thursday morning, Smith took the side of disappointed ticketholders. "I am as sickened as you all are by today's Ticketmaster 'fees' debacle," he wrote. "To be very clear: the artist has no way to limit them."
Read Next:

Brad Pitt and Damien Quintard announce reopening of Miraval Studios

Later, Smith said that resale tickets for the shows had been removed from StubHub "in all markets except NY, Chicago, Denver (i.e, cities in states that have laws protecting scalpers)." Noting that "there are still tickets available – it is just a very slow process," Smith sensibly implied that scalpers would not exist if no one purchased tickets from them.
ADVERTISEMENT
I AM AS SICKENED AS YOU ALL ARE BY TODAY'S TICKETMASTER 'FEES' DEBACLE. TO BE VERY CLEAR: THE ARTIST HAS NO WAY TO LIMIT THEM. I HAVE BEEN ASKING HOW THEY ARE JUSTIFIED. IF I GET ANYTHING COHERENT BY WAY OF AN ANSWER I WILL LET YOU ALL KNOW. X
— ROBERT SMITH (@RobertSmith) March 16, 2023
I HAVE BEEN TOLD: StubHub has pulled listings in all markets except NY, Chicago, Denver (IE. CITIES IN STATES THAT HAVE LAWS PROTECTING SCALPERS). PLEASE DON'T BUY FROM THE SCALPERS – THERE ARE STILL TICKETS AVAILABLE – IT IS JUST A VERY SLOW PROCESS… X
— ROBERT SMITH (@RobertSmith) March 16, 2023
ADVERTISEMENT
I WILL BE BACK IF I GET ANYTHING SERIOUS ON THE TM FEES… IN THE MEANTIME, I AM COMPELLED TO NOTE DOWN MY OBVIOUS RECURRING ELEPHANT IN THE ROOM THOUGHT… THAT IF NO-ONE BOUGHT FROM SCALPERS… THEN… X
— ROBERT SMITH (@RobertSmith) March 16, 2023
Smith also said that The Cure had refused to tie their tour sales to Ticketmaster Platinum, the dynamic pricing model which increases ticket costs based on demand. "It is a greedy scam," Smith wrote, "and all artists have the choice not to participate… if no artists participated, it would cease to exist."
ADVERTISEMENT
WHAT I MEANT BY THIS BIT WAS… I HAD A SEPARATE CONVERSATION ABOUT 'PLATINUM', TO SEE IF I HAD MISUNDERSTOOD SOMETHING… BUT I HADN'T! IT IS A GREEDY SCAM – AND ALL ARTISTS HAVE THE CHOICE NOT TO PARTICIPATE… IF NO ARTISTS PARTICIPATED, IT WOULD CEASE TO EXIST X https://t.co/Kj7hjkRGn1
— ROBERT SMITH (@RobertSmith) March 15, 2023
Pressure is continuing to rise against Ticketmaster on many fronts The Department of Justice has opened an antitrust investigation into Ticketmaster's parent company Live Nation over alleged power abuses, and the company has been roundly condemned for recent botched ticket sales. Bad Bunny fans with tickets were locked out of a Mexico City concert after what Ticketmaster claims was vast fraud (the company has been fined millions by the Mexican government) and a wave of potential Taylor Swift ticket buyers led to crashed Ticketmaster servers, the cancellation of the sale, a lawsuit, and a Senate subcommittee hearing.
ADVERTISEMENT