Uwade shares new songs "The Man Who Sees Tomorrow" and "Lodarore" cover
Hear two tracks from the Nigerian-American artist.
April 16, 2021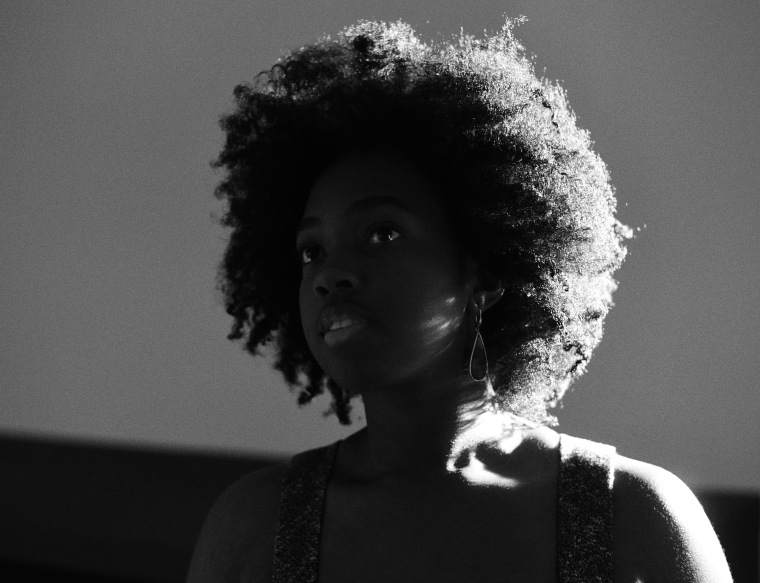 Uwade. Photo by Shervin Lainez.
How Uwade's music got introduced to the world is something closer to the plot of A Star Is Born than anything closer to real-life: Robin Pecknold, the songwriter behind the beloved indie-folk act Fleet Foxes, was writing songs for a new album when he came across a clip of Uwade singing one of his songs. He was so taken by Uwade's voice that he asked her to perform on his 2020 album Shore; her vocals are the first we hear on the album, and the song she performs on "Wading in Waist-High Water," is one of its highlights.
ADVERTISEMENT
Of course, Uwade doesn't need anyone else to write a great song. Today she's sharing two new tracks that affirm her as a talent to watch in her own right. "The Man Who Sees Tomorrow" is the second solo song Uwade's ever shared publicly, and it's an aching, sparse composition with guitar that burrows deep in you like a creature trying to escape the light. The jaunty, acoustic "Lodarore" is a cover of the song by Nigerian artist Sir Victor Uwaifo. Both tracks serve as tributes to Uwade's father, who passed away last year. Read her statement on the tunes below:
ADVERTISEMENT
When I lost my father in August of 2020 I was devastated. Grief was like lead in my blood. It made everything grey and dull and meaningless. It made life feel too long. But I knew that my sorrow was a result of my great love for my dad, and I am grateful for that love. It is what has kept him alive in my heart. My dad is a part of me in a very real way and "The Man Who Sees Tomorrow" is my ode to him; my promise to continue to cherish him, even in death.
When I was younger, my dad would sing songs to me in the car while he drove me to school. "Lodarore" was one of them. After he passed and I found myself cataloguing memories of him for safekeeping I stumbled upon the song on Spotify. I listened to Sir Victor Uwaifo sing it over and over again, giving my childhood memories new life. It was one of my father's favorite songs, and it speaks to the utmost importance—now more than ever—of relationships. We cannot survive without the help and support of those around us. We make each other who we are.
These songs are dedicated to Dr. James I. Akhere, who made me who I am.