Watch Cardi B join GloRilla on stage at the American Music Awards 2022
The duo performed "Tomorrow 2" together for the first time.
November 21, 2022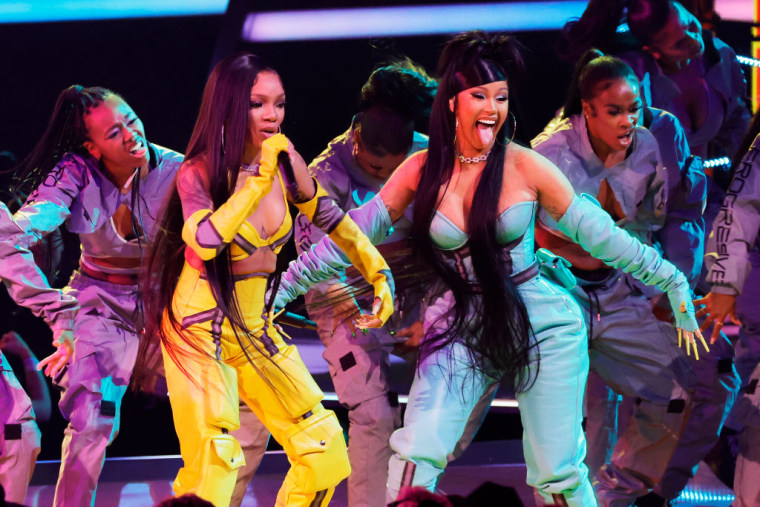 Kevin Winter/Getty
The 2022 American Music Awards took place in Los Angeles on Sunday night with Memphis rapper Glorilla among the the artists playing live. She performed "Tomorrow 2" with Cardi B making a surprise appearance to rap her guest verse. Check out their performance above.
ADVERTISEMENT
"Tomorrow 2" appears on Glorilla's new EP Anyways, Life's Great…, released earlier this month. The EP also features breakout hit "FNF (Let's Go)" plus new song "Nut Quick." Last week Glorilla announced a headline tour of North America, starting early next year.
Read Next:

Glorilla and Cardi B connect on "Tomorrow 2"

So far this year Cardi B has appeared on songs with Kay Flock and Summer Walker, as well as sharing her own solo single "Hot Shit." In September she pleaded guilty to two misdemeanors in connection with a 2018 incident at a strip club.
ADVERTISEMENT
IN CASE YOU MISSED IT: GloRilla and Cardi B just KILLED IT at the 2022 #AmericanMusicAwards with 'Tomorrow 2' 🥰🔥 pic.twitter.com/wOofoKEKj8
— KenBarbie™ (@itsKenBarbie) November 21, 2022
ADVERTISEMENT