Eric Bellinger lets his light "Shine On The World" in his new visual
The record is set to appear on the singer's forthcoming album, set to drop later this summer.
By The FADER
June 17, 2021
Singer-songwriter Eric Bellinger shared the innovative visuals for his latest single "Shine on the World" on Friday, serving as the first single from his forthcoming album dropping later this summer.
The inspirational record along with its dynamic video follows Bellinger's life story from his church roots to his current place as one of R&B's biggest songwriters. He makes his way through adoring fans and goes on to enjoy the fruits of his labor. In the end, he performs alongside a group of vocalists, empowering listeners to not be afraid to shine their light.
Read Next:

Watch Eric Bellinger Turn Rae Sremmurd's "Black Beatles" Into An R&B Smash

The video feels like one of Bellinger's most personal, the Loris Russier-directed visuals are also completely shoppable courtesy of TAP IN XR & .show, offering viewers a chance to purchase new merch from Eric throughout the music visual, including the Rich Before The Money Tee, Don't Be Afraid Tee, and Soul Sistas Tee.
TAP IN XR founder Mayowa sat down with Bellinger to discuss his long-spanning career, and ow he defines success.
Mayowa: Eric, looking through your catalog, you have never released a record like "Shine On the World". So why "Shine On The World" and why now?
I think my natural elevation needed to take place in real life in order for it to genuinely translate in the music. I've always worn my heart on my sleeve and spoke about whatever I may have been going through at the moment or even how I felt. I'm at a point now where I realize it's up to me to Shine On The World. A conscious decision from self rather than an allowance from anyone else.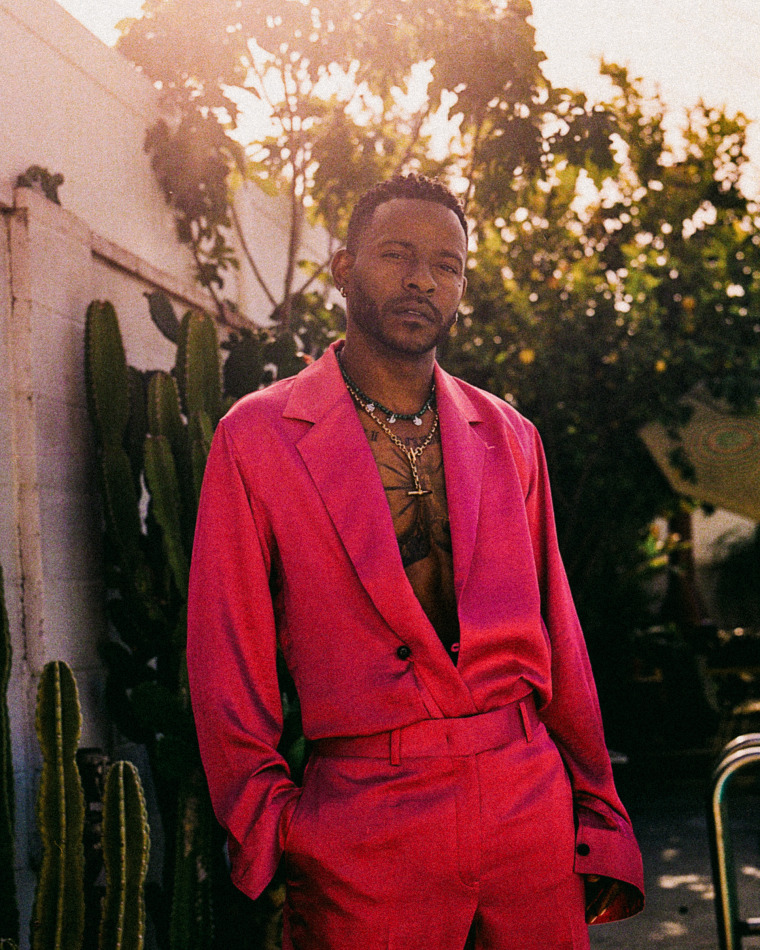 Photo by Akilah Townsend. Styled by Neon Complex.
ADVERTISEMENT
The opening scene of the visual feels like a short film. We see a boy walking into a church raising his hand to sing only to be rejected once he sings to the audience. Can you tell us why that scene was put in the visual and what it means to you?
That beginning scene is actually based on a true story. When I was younger that exact same thing happened to me. I grew up in a Church where singing anything outside of those four walls was frowned upon. It traumatized me for years causing me to question if I was at fault for simply wanting to use the gift God gave me. Luckily it didn't get to me too bad & instead of letting the judgment keep me down, I used it as fuel and motivation to guide me to my own personal happiness and ultimately my success.
How will you know if "Shine On the World" has made the impact you wanted?
I already know it has and will continue to do so. We live in a world with quick results. As soon as a song is out the people will let you know how they feel. I always get people telling me the songs are great or they love the music but this time around the feedback has been a little bit different. People are telling me they hear God in the music. Lives are being touched and faith is being restored. That was the goal with Shine On The World. It's truly inspiring to be an inspiration.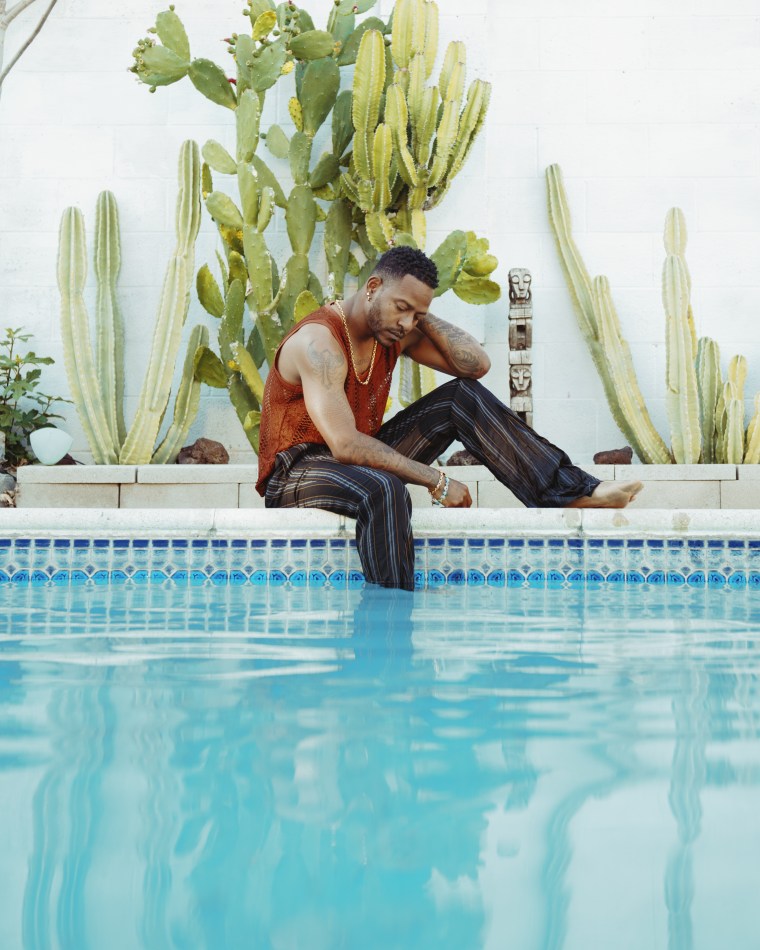 Photo by Akilah Townsend. Styled by Neon Complex.
There were a couple of lines in 'Shine On The World' that really stuck with me "Your beauty could paint a picture" and "Should have been a scripture about you in the bible". Your music has always seemed geared towards the female audience and in this record more even focused on empowering them. How have women influenced you as a man and as an artist?
I think women have enabled me to do what I do. From singing about them to them, with them & for them… It's created a lane for me that I didn't know I was paving. By genuinely doing what I've always felt was right, I gained an organic following of not only women that needed to hear the songs, but also men that wanted to dedicate emotion and thoughts to their Queens.
There aren't too many artists that make positive music for lovers. It's tough growing up on old-school music while trying to release it in a new school time. But staying true and consistent to myself is what's kept me around and that's uplifting women any & every chance I get.
You recently did a performance with an all-female band. Can you tell us a bit about that experience and why you chose to go in that direction?
I've always been a fan of bands. I just respected the process so much I never wanted to really half do it. This time around, I feel like we're on the verge of elevation. I knew in order to get different results we would need to approach things differently. And what better way to show appreciation to women than to have all females holding me down as representation for the foundation of my shows. Not just any ladies tho. Four of the most talented women I've ever met! S/O to the Angels.
The landscape of R&B music has changed since you first started your music career. What are some of the things you have noticed that are different since you started?
Being in the game for so long I've seen a lot of things & people come and go. At one point it was about the songs. Then it became about the best voice. Then it was the biggest clique. After that, the co-sign was a necessity. And as the times changed music has also been ever-evolving with the popular sound of the moment switching from ATL to NY to LA back to ATL regions. Then the features were the most important. Next was who was viral and what was trending.
Marketing strategies have jumped from radio to social media platforms and now streams have become the determining factor on who's who in the culture. Dances and challenges have become the new wave in breaking new records. If you're not tapped into all these things and paying close attention to when to slow down your melodies or speed up those cadences you'll eventually get lost in the sauce.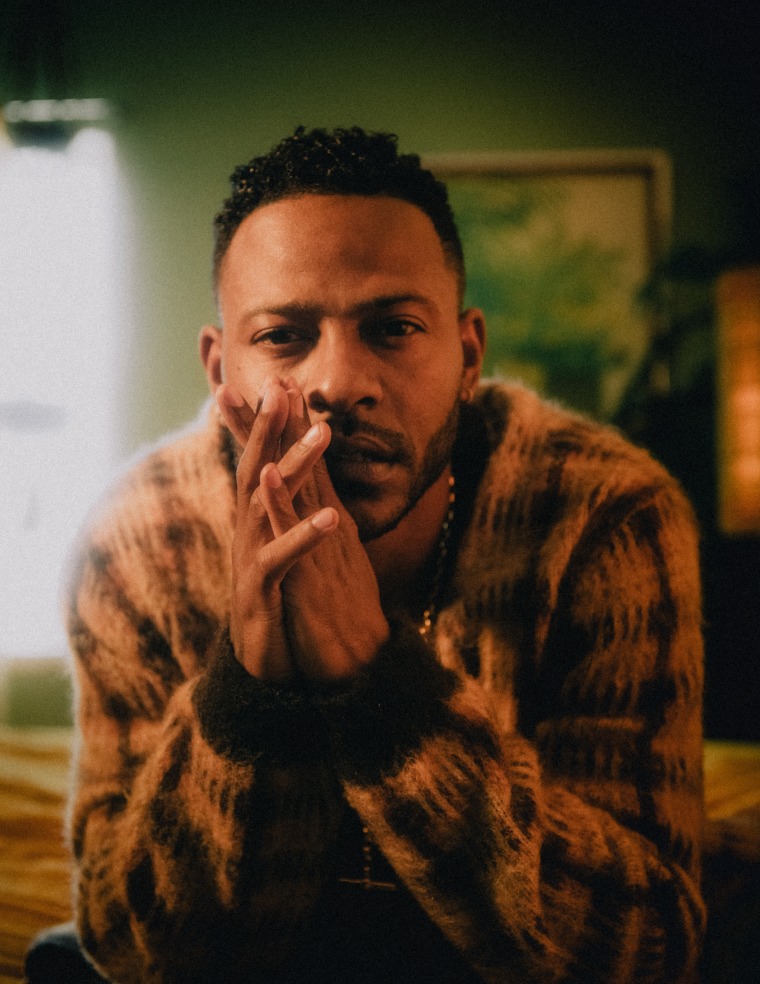 Photo by Akilah Townsend. Styled by Neon Complex.
It looks like you're in rollout mode. How has your approach and process of working on your upcoming album differ from the way you have worked on albums in the past?
A lot of my music is based on me finding love and falling in love with love. The ups and downs of it all. But this time around I've been in more of a self-reflective space. With the pandemic putting the world on hold placing us all in isolation, I was blessed with the gift of time. No shows, no sessions, no flights, no meetings… The only time to work on me. I got to a place where I mattered more than anything I was dedicating my time to.
I began to write about things I normally wouldn't write and it caused me to challenge concepts a little deeper. Knowing what I wanted to say and didn't want to say helped me get more specific and intentional with not only my sound but my look and the overall mission I wanted to send to the world.
What can fans expect from the upcoming album?
I think fans will love and appreciate this new Eric Bellinger. As I've grown so has my music. My experience has taught me how to be better. For each album, I examine the outcome from comments to reposts to tweets and even in-person word-of-mouth feedback. I'm finally comfortable enough to give the people what I feel they need rather than what I know they want.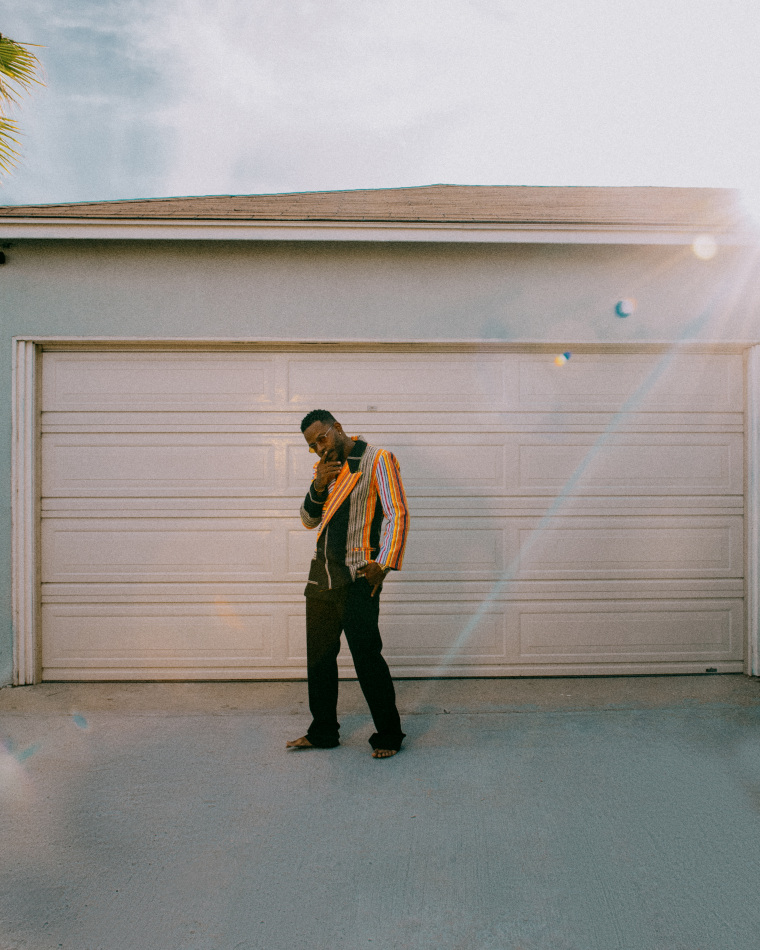 Photo by Akilah Townsend. Styled by Neon Complex.
Outside of working on your own music are there any other artists you are writing or producing records for?
Definitely! I also believe it's important to continue to do what you did to get here in order to stay here. Lately, I've been having a fun time going back and forth from writing on my own projects and being of assistance to some of the biggest artists in the world. From Diddy to Summer Walker, to Ty Dolla Sign, and Chris Brown to name a few.
You have won Grammys, written and been part of records that have gone gold. How do you let those accolades define you and how would you define the true meaning of success?
I never let those moments define me but I always used them as leverage. Consumers typically tend to gravitate towards familiarity. And since I never had the big cosign or major label backing I had to find a way to sneak into their hearts lol As my writing career took off it enabled the spotlight to shine on me as an artist. My pen opened the minds and ears of people that were strangers to me but already fans of my work.
Once word got out that I was behind some of the people's favorite songs over the past decade it made it easier for them to trust my style and sound because it was something they were already accustomed to. I never tried to reinvent the wheel either, I just made it an obligation to continuously fine-tune & smooth it out for a much more enjoyable ride. Get used to me. It's Eazy!
Stream "Shine on the World" here.