10 songs you need in your life this week
Tracks we love right now, in no particular order.
By Salvatore Maicki, Shaad D'Souza, Jordan Darville, David Renshaw, Sajae Elder
September 30, 2021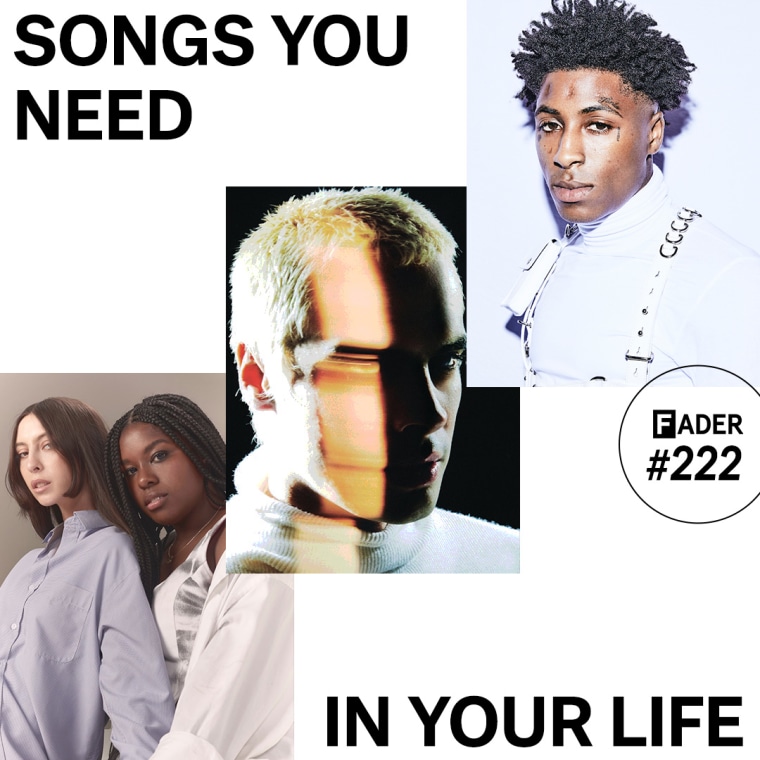 Pictured L-R: Coco and Clair Clair, Sega Bodega, YoungBoy Never Broke Again
Each week, The FADER staff rounds up the songs we can't get enough of. Here they are, in no particular order.
ADVERTISEMENT
Subscribe to Songs You Need In Your Life on Spotify.
Read Next:

Hear Donna Missal's new single "sex is good (but have you tried)"

ADVERTISEMENT
"from paris, with love" — quinn
Dubstep sounds like the future again on the explosive second track from teenaged experimental pop producer Quinn. Beyond wildly cathartic drops from synthesizers usually reserved to announce the arrival of angels, the song at its heart is a meditation on that special toxic someone. It's a cauldron of resentment, occasionally boiling over and sending its volatile contents spewing into the flames — JD
"I Can't Take It Back" — YoungBoy Never Broke Again
YoungBoy has a lot, and wants more. He has a kind of hunger that a lot of other rappers do — for pristine jewelry, enough money to keep his grandkids wealthy, and the right kind of car for his lifestyle. What sets YoungBoy apart with songs like "I Can't Take It Back" is how he positions these desires next to his capacity for deep reflection. His flaws, trauma, and a chance at love are the topics YoungBoy sing-raps on with an intense, sincere passion. Material possessions make for flashy rap bars, but YoungBoy has a keen grip on what he really needs to make him a better person. — JD
"TBTF" — Coco & Clair Clair
Although it's as hard-edged and shit-talking as every other Coco & Clair Clair song, "TBTF" — which makes reference to Chloë Sevigny, twerking, and doing Hinder at karaoke, if anyone had those on their Coco & Clair Clair bingo card — features a more pensive mood than past C&CC singles, making it as perfect for the 3am Uber home as it is for pregaming. — SD
ADVERTISEMENT
"Jerry" — HighSchool
"Jerry" is HighSchool's most straightforward pop song so far, replete with "ah-ah-ah"s and romantic disavowals; it's earnest but winkingly chintzy, an aesthetic conflict mirrored in the song's back-and-forth lyrics, which pivot from empathetic ("You're too young, you're too blind") to resolutely closed-off ("Made up my mind, you broke my heart.") — SD
"Fitt" (with Amaarae) — Dua Saleh
You might be familiar with Dua Saleh if you've been watching the latest season of Netflix's Sex Education, where they played the role of newcomer Cal. Saleh was intriguing long before they started attending class with Britain's oldest-looking students though, as new song "Fitt" shows. Built around a shuffling beat and plenty of handclaps, the track opens up for Saleh and Ghanaian-American star in waiting Amaarae to do their thing. It's a refreshingly light and addictive sound from Saleh, whose position in the spotlight suits them. — DR
"Bottle Episode" — Mandy, Indiana
Mandy, Indiana may hail from Manchester, England but that's the only thing that's not straight to the point about new song "Bottle Episode." Combining elements of industrial, post-punk, dub and techno in a way that unmistakably echoes Yeezus (specifically "Black Skinhead"), the song builds and builds into something bigger than its individual elements. Valentine Caulfield's vocals, delivered in French, add to the disorientating effect of it all. Turn this one up loud. — DR
ADVERTISEMENT
"Over" — Lucky Daye
Over a chopped-up sample of Musiq Soulchild's 2002 single "Halfcrazy," Daye's latest has just as much pleading energy; with the singer asking himself: "If you're so toxic to me, what am I fiendin?" After dropping a slew of recent collaborations, from VanJess to BJ The Chicago Kid, the single is likely to appear on Daye's still-in-the-works sophomore album, according to VIBE. — SE
"Blue Sunshine" — JONES
The breezy cut from London-based JONES is a soulful trip-hop callback, pairing her wistful vocals with puttering live percussion and a merky guitar loop. Described by JONES as "laid back soul," her latest EP of the same name, packed with ideas about love, family, and identity, serves as a musical journal written during "the tension of the first lockdown." — SE
"Angel On My Shoulder" — Sega Bodega
Dredged up from the synapses between our present reality and the afterlife, the latest offering from Sega Bodega's sophomore album Romeo aims to consecrate phantom connections with people we'll never meet. It's a dense and gnarled transmission, flecked with the glimmering assurance that support exists across the astral plane. — SM
"Born 100 Times" — Empath
Empath are back! The Philly quartet deliver a bit of pummeling pop on their first single since 2019, a headspinner called "Born 100 Times." "Is this the power you thought you had?" Catherine Elicson shrieks atop the writhing chaos of her bandmates. "You want it? You got it, oh yeah." As we vault out of summer and toward chillier days, Empath's music stands up like armor to the uncertainty. — SM